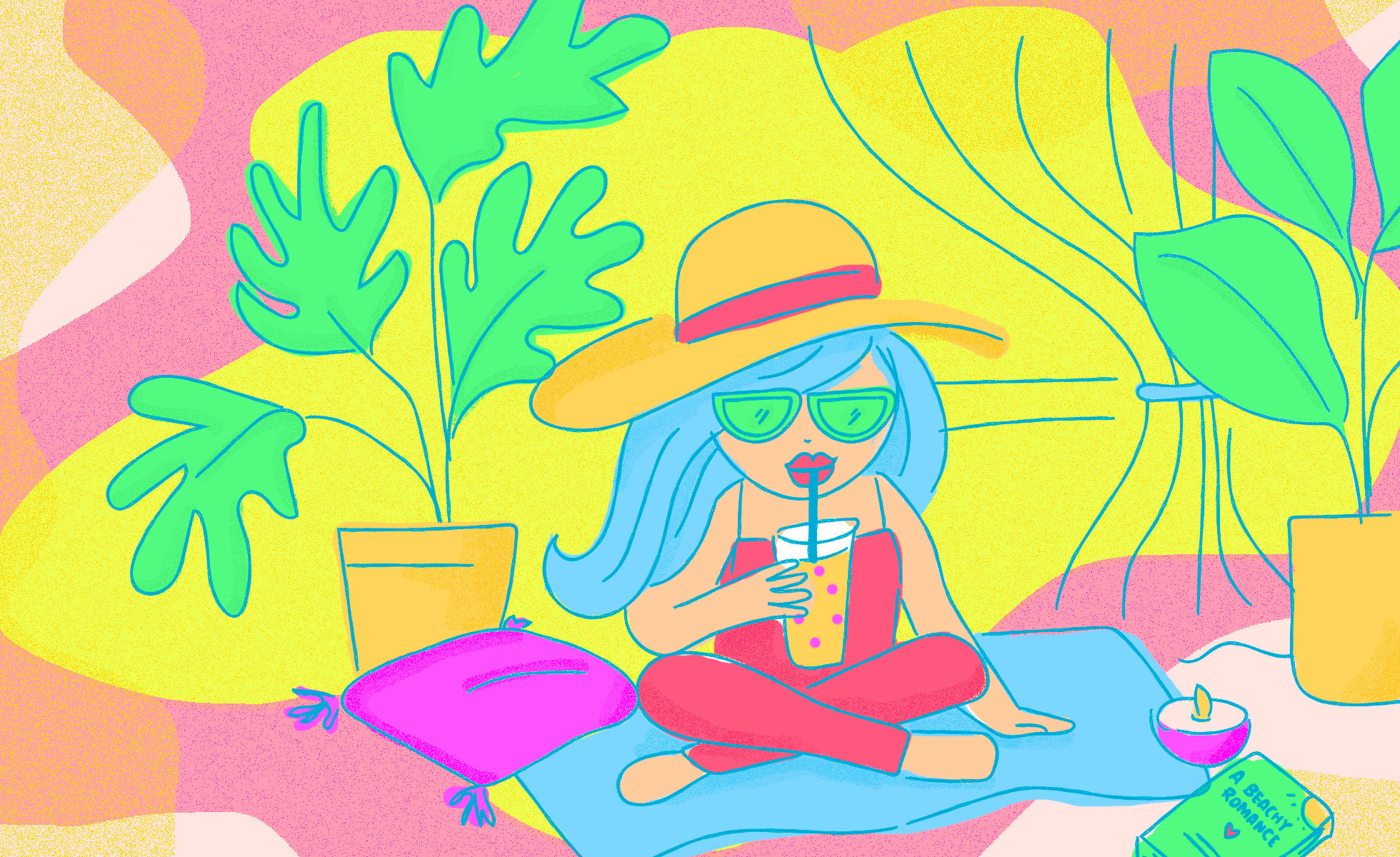 Are you dreaming of your next vacation, too? There are a lot of things I miss right now, but traveling definitely tops the list—and I know I'm not alone. I miss taking a break from the mundane routine and exploring new places, people and cultures.
---
Instead of letting weekdays and weekends to blend together, turn your home into a travel destination for some much-needed R &R. The current travel halt doesn't mean you have to stop exploring. I'm currently craving the beach—wanna come with?
---
Start With a Theme
Just as you would for a physical trip, choose your destination. For a beach trip, bring the sea salt, breeze and sunshine to you.
---
Set the Scene

Take advantage of any sunlight or safe outdoor access you have (anything from the balcony to the backyard or an uncrowded park). Don't forget to dip into a pool or bathtub at some point—let's get creative. Of course, SPF is a must.
---
Heighten the Mood

Light a candle with notes of sea salt that'll transport you straight to the beach. Massage your body with a hydrating cream with a delicious, addictive, made-for-the-beach scent. Plus, no vacation is complete without a curated playlist.
---
Pour Your Favorite Tropical Drink
Get your favorite tropical drink in-hand—may I recommend a marg or a mojito? If you're on the beaches of Italy, maybe an Aperol Spritz. And sip away.
---
Look the Part
Don't forget to look the part! If it's warm enough, throw on your favorite bathing suit and get your tan on, or pick from your fave beach outfits. Accessories are also a must—get your shades ready and throw on a hat, too.
---
Bronze Away

You don't have to physically be at the beach for a radiant, sunkissed glow. Add some warmth to the skin without setting foot in the sand with a sunlit bronzer for the face and a bronzed tint to the body.
---
Get Tropical

Coat your eyelids with bright, vivid shades inspired by island living. Go all out, and have fun with it!
---
Add Some Waves

Let's be real—one of the best parts of going to the beach is your hair afterwards. Volume, texture, beachy waves—is there anything better? Lucky for you, the right texturizing spray bottles the effect for windswept, gritty waves at your disposal.
---
Don't Forget to Relax!

Truly disconnect and get off the grid by keeping your phone out of sight, and find your Zen with all-natural CBD gumdrops.
---
Bring Your Friends Along

Send your loved ones a physical (or virtual) postcard to check in and encourage them to do the same. Or, for instant gratification, snap a photo of your staycation and tag your friends (including us!) to inspire them to take an indoor trip of their own. Safe travels!
---
View Original Article